Jared's Little Corner is turning 1 year old. It was all started as an online chronicle of all the firsts together with their milestones in their life. So they decided to have
Jared's Little Corner Birthday Giveaway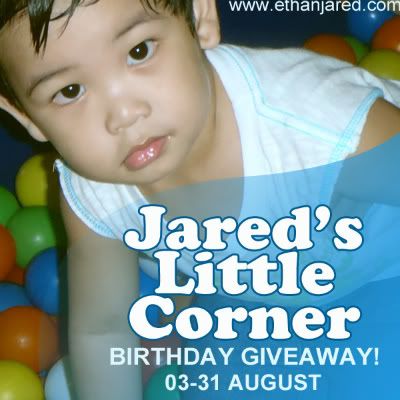 This coming few weeks, Jared will turn 2 years old.
How he will celebrate his birthday? Here are some questions to think off when arranging or preparing a birthday party.
Who to invite?
Start putting your close family on your list. Add to the list are his friends together with their parent. If you are determining the length of guest list, try to think of an option if you are choosing between a large and small scale party which is comfortable to your baby.
In preparing an invitation, let them choose what he/she wants. You can choose If you are willing to be more creative, choose a simple printing invitations on a white paper and have your child decorate it with fingers paints, crayons or stickers.
Choosing the time
When scheduling a party, try to think of a better time like morning or late afternoon. Make it sweet and short, at least 2 hours is quite convenient for the parents and babies.
Choosing a place
Basically, I prefer to choose home to be the best place to throw a birthday party, but if you are preparing a big party with a lot of guests look for a place like indoor play area, a park, a local recreation center, a gymnastics school, a kids' museum, a church hall, or a restaurant with a fee.
Choosing a theme
When a choosing a theme, ask your child what he/she wants for her/his party. For girls they prefer Disney Princess while for the boys, they like Cars, Ben 10, Toy Story, Spiderman, Superman, Barney and Spongebob. For example, if Jared chose Spongebob, go to Divisoria and look for paper plates, hats, stickers, invitations, prizes, loot bags, stuffed toys with a Spongebob face.
Food
Children loves to eat Spaghetti, so don't forget this meal. Hehehhe. You can add hotdogs on stick, sandwiches, cupcakes and cakes, ice cream and other delicious and yummy treats. Provide enough high chairs or child size tables and chairs to accommodate all the kids.
Games and activities
If you have enough budget and willing to spend here are some booths I can recommend and you may choose want you want: soft ice cream, cotton candy, popcorn, french fries, choco fountain, Purefood Hotdogs, nachos, face painting, photobooth and clowns and magician
Goody bags
There's no need to spend much — low-cost favors like crayons, plastic animals or figurines, matchbox cars, plastic bracelets, bubbles, or stickers will provide plenty of excitement and amusement, it depends upon the theme you chose.
Whew, that's all. I hope all this tips might be useful for Jared's upcoming birthday bash
The contest is not possible without the help of the sponsors
Major Sponsors
Minor Sponsors
General Sponsors